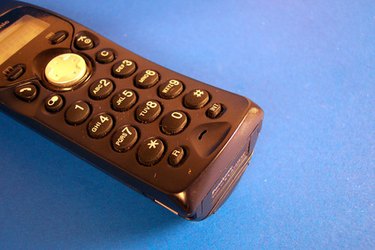 AT&T, one of the largest landline providers, is usually helpful when you want to cancel your service. Whether you're planning to just use a cell phone or are switching to another provider, you'll want to cancel your AT&T service first to avoid paying two bills. You can ensure the cancellation process goes smoothly by taking some preparatory measures and being direct with the representatives.
Step 1
Make sure you're current on your bill. Send in any payment necessary to bring your account balance to zero, and let it clear before you call. AT&T will not usually let customers with a balance cancel their service. You are billed one month in advance (January's payment covers February's bill) so you'll have a credit, not an accrued balance, if you cancel as soon as the payment has cleared.
Step 2
Find the customer service number and call. AT&T has different numbers for different regions and services. Your customer service number will be listed on your billing statement. Follow the menu options until you can speak to a general representative. Tell the rep you'd like to cancel. You'll probably be transferred to the AT&T customer retention department.
Step 3
Refuse any offers. The AT&T "retention team" usually has special promotional offers and services for customers who are attempting to cancel. Politely decline any offers, and gently insist that you want your service canceled.
Step 4
Record information from the conversation. Include the time and date, the name of the representative, the "rep ID" of the person and the confirmation number provided. If the representative does not offer it, ask about any refund you may be due, and record the amount.
Step 5
Use the information. If there are any problems with your cancellation, use the information you collected in Step 4 to fix them. AT&T representatives are required to keep detailed accounts of conversations they have with customers. If you're able to provide the representative's name, ID and the date and time of the call, you'll be much more successful in resolving any disputes that arise.