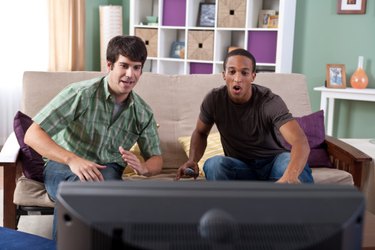 DirecTV is a satellite-television service that provides network, specialty and movie channels to subscribers. The service is accessed through a small satellite dish mounted to your home and a digital receiver connected to your television sets. Subscribers can order service and access their accounts online using the DirecTV website. If you decide to terminate your service, you must contact a DirecTV customer service representative by phone. You cannot cancel your subscription using DirecTV's website.
Step 1
Find your last bill. Having your DirecTV account number handy will speed up the cancellation process.
Step 2
Call DirecTV's customer service center at (800) 531-5000. Customer service representatives are available from 8 a.m. to 1 a.m. Eastern Standard Time daily, including weekends. The call is toll-free.
Step 3
Enter your DirecTV account number or billing telephone number when prompted by the recorded message.
Step 4
Request that the customer service representative cancel your account.
Tip
Expect some kind of sales pitch from the customer service representative, urging you to stay with the company. Also expect to be asked to give your feedback about the service.
Warning
Make sure you've reached the end of your contract or you may have to pay an early termination penalty.
If you are leasing the digital receiver, you will need to return it to the company. You get to keep the satellite dish mounted to your house.