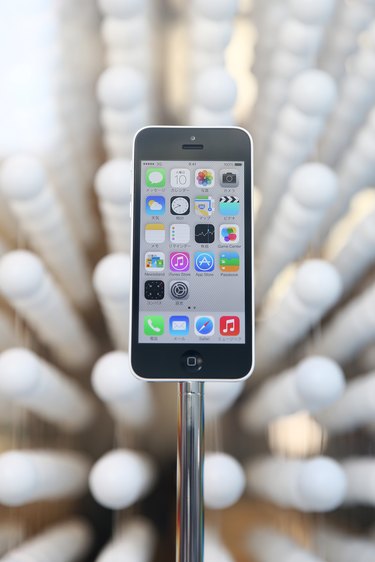 Apple has never been open to letting users customize many aspects of how the iPhone looks and feels. However, thanks to some accessibility options and the use of transparency noticeable throughout iOS 7's user interface, changing the font and colors of the dial pad on the iPhone is possible.
Change the Dial Pad Color
The trick to changing the colors in the dial pad of the Phone app is to change the home screen wallpaper on your iPhone. When you tap any number on the dial pad, the color that appears is part of a blurred version of your current wallpaper. If your wallpaper is primarily red in color, for instance, your dial pad will be too. To change your wallpaper image, tap the "Settings" icon. Then tap "Wallpapers & Brightness" and "Choose a New Wallpaper." There, you'll be able to pick from images from Apple or pictures from your photo albums.
Bold Text or Inverted Colors
By making use of some of Apple's accessibility options, you can tweak the way the dial pad looks. To make the numbers bolder, go to the "Settings" app and tap "General," followed by "Accessibility." Tap the switch next to "Bold Text," which will prompt you to restart your phone to enable bold text. On that same Settings page, you can tap the switch next to "Invert Colors" to do just that. Note that these accessibility settings apply to the entire phone, not just the dial pad.