The orientation of portable document format (PDF) files can be permanently changed only using the PDF creation software, Adobe Acrobat. Acrobat will let you rotate a single page or an entire document in increments of 90 degrees and customize the options. There also is a way to temporarily change the orientation of a page view using the free software, Adobe Reader.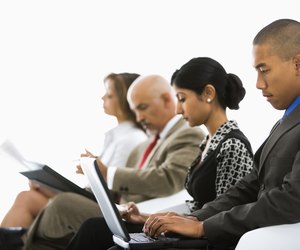 Step
Open a PDF document in Adobe Acrobat.
Step
Click the "Document" menu, then "Rotate Pages." The "Rotate Pages" dialog box will open.
Step
Click the "Direction" drop-down list. Choose the page orientation you prefer: "Clockwise 90 degrees," "Counterclockwise 90 degrees" or 180 degrees."
Step
Specify if you want to change all the pages or a range of pages using the options under "Page Range." In the "Rotate" menu, specify if you want to rotate even and odd pages (all pages in the document) or only even pages or odd pages. If you only want to rotate pages of a certain orientation, select "Landscape Pages" or "Portrait Pages" in the bottom menu.
Step
Click "OK" to make the changes.
Step
Click the "File" menu, then "Save" to save the document.