Microsoft Outlook is one of the most common business email clients. If you have recently begun work at a business that uses Microsoft Outlook, you may be wondering how to accomplish certain basic functions such as changing a password, as the menu option for doing so likely differs from the web mail account that you may be using at home. This article discusses the steps needed to change an email password in Microsoft Outlook.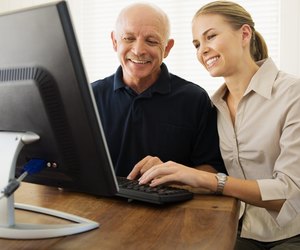 credit: Jupiterimages/Pixland/Getty Images
Step
Click "Tools" in Outlook, then click "Account Settings."
Step
Click the "E-mail" tab if it is not already on top. Click the email account that you would like to change the password for, then click "Change."
Step
Click inside the "Password" box, and type the new password for the email account. Click the "Remember password" box if you would like Outlook to remember your password.
Step
Click the "More Settings" button if you a different password for your outgoing email server than for the incoming server. If you use the same password for incoming and outgoing mail, skip to Step 6.
Step
Click the "Outgoing Server" tab. Type the new password for the outgoing mail server, and optionally, click the "Remember password" box. Click "OK."
Step
Click "Next," then click "Finish" to save your settings.