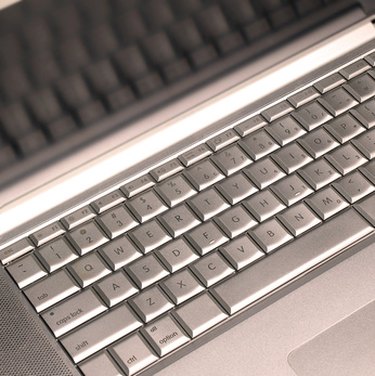 Nearly every modern laptop computer comes with a touchpad for on-screen interaction. Depending on your operating system and touchpad driver versions, you can update the speed, sensitivity, tap speed and clicking functions of your computer's touch pad. Accessing these settings and updating them to meet your needs is a quick and easy process with both the Microsoft Windows and Apple OS X operating systems.
Change Touchpad Settings in Windows
Step 1
Open the Control Panel by clicking the Windows Start button and selecting "Control Panel." Depending on your Windows configuration, this option may be located within the Start Menu's "Settings" sub-folder.
Step 2
Double-click the Control Panel's "Mouse" icon.
Step 3
Click the Touchpad tab. This tab can have one of several names, depending on your computer manufacturer, your operating system version and your device drivers. However, the most common labels include "Touch Pad," "Device Settings" and "Dell Touchpad." If you do not see any option resembling these, you may not be able adjust your laptop's touchpad settings. Refer to the "Warnings" section if this applies to your computer.
Step 4
Locate the "Scrolling Settings" area within the touchpad properties tab. Adjust the settings to meet your needs and then click "OK" to close the dialog boxes and confirm your changes.
Change touchpad settings in Mac OS X
Step 1
Click the Apple menu and then select "Preferences."
Step 2
Click the "Keyboard & Mouse" icon.
Step 3
Select the "Trackpad" option from the top of the Keyboard & Mouse dialog box.
Step 4
Adjust the trackpad settings to meet your needs, and then close the dialog box to confirm your changes.
Warning
Updating touchpad settings may not be possible in some older laptops, or laptops using outdated drivers. Visit your computer manufacturer's website and download the most current touchpad drivers for your laptop to determine if this applies to your machine.