Maybe you've changed your name since you created your Yelp account, or maybe you're known by a nickname or alternate name that you'd like to use with your Yelp reviews. Use your account settings to change your name or nickname, but if you're a regular Yelper, be aware of changes that attempt to obscure your identity.
Step 1
In Yelp, click on your profile picture.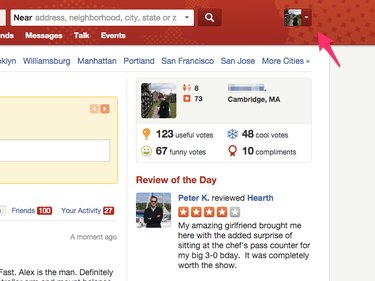 Step 2
Click on Account Settings in the pop-up menu, and then click the Profile link.
Step 3
On the profile page, make any changes you want to your first name, last name and nickname.When you're satisfied, click Save Changes.
Step 4
If you've changed your first or last name, and not just a nickname, confirm your action by clicking the Change my real name option, and then click Save.
What's In a Name?
When you submit a Yelp review, your first name and last initial are displayed alongside it. As Yelp's Privacy Policy explains, your first name and last initial are also displayed in your publicly accessible Yelp profile. As Yelp co-founder Russel Simmons has written, the first-name-and-last-initial combination can become a kind of "Yelp pen name" that's known to readers of your reviews, so if you've built a a following on the site, you probably want to think seriously before changing your name too frivolously.
Of course, if your real name changes, perhaps after getting married, you may well want to change your Yelp name, too. And if you're a Yelp Elite member, you should make sure to keep your real-world and Yelp names in sync and stay in line with the program's real name policy.
A Yelp "nickname," is displayed in quotation marks on your profile, though it's not shown with your individual reviews. Lots of Yelp users do have whimsical nicknames, so it doesn't have to be extremely serious or a nickname you'd use in real life, but if you do add one, make sure to choose one you don't mind your readers seeing.