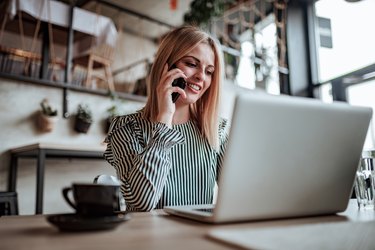 In late 2018, T-Mobile's MetroPCS dropped the "PCS" to rebrand itself as "Metro," adding new unlimited plans to its roster. Just as old naming conventions die hard, some things about Metro remain just as they were, including the ability to check your call history online. Open your browser and bust out those account credentials to get started, but don't worry if you don't know your login off the top of your head – there are a few backup plans on deck.
MetroPCS: Login, Check Your History
Head over to MetroPCS and sign in – sorry, head over to Metro and sign in – to your account at MetroPCS.com/my-account/sign-in. Enter your Metro phone number and account PIN to log in and then click the menu called "Metro Phone Number." From the drop-down menu, select "Account Usage and Activity" and "Call Details."
You'll see a spreadsheet-like list that includes each number you've previously called, the date you called it, the duration of the call, and the type and cost of the call.
Call History: Android and iOS
If using a browser isn't your style or you don't have your Metro account credentials handy, your phone has a built-in way to check your call history. Metro offers both Android and iOS phones ranging from the Alcatel 1X Evolve to the iPhone SE, so the process varies a bit depending on your phone's operating system.
On Android, open the "Phone" app by tapping the phone-shaped symbol on your home screen and then tap the "Recents" icon, represented by a clock symbol. You'll see a list of missed (in red), answered (in blue) and outgoing (in green) calls. To learn more about each one, tap the call and choose "Call Details" to view the time, date, duration and more information.
Checking your call history on iOS starts with tapping the "Phone" app and the clock-emblazoned "Recents" icon. From the list of all your phone and FaceTime calls that appears, you can tap the tabs at the top to choose between "All" and "Missed" calls. Tap the "i" icon next to each call to view additional information.
The myMetro Account App
Alongside its account website, Metro offers another way to quickly access account information, the free myMetro app for Android and iOS platforms.
After downloading myMetro and initially signing in with your Metro customer information, you can instantly access your account balance and due date or keep an eye on your data usage. You can also use the app to make payments, change your Metro plan and reset your voicemail password. If you're still having trouble accessing your call log or are experiencing other Metro issues, go to the app's Home menu and tap "Chat Now" to chat with a representative from Metro's support department.