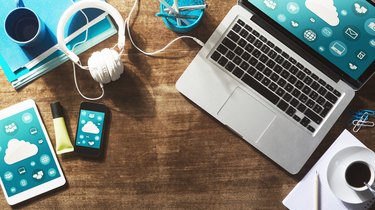 The JayBird Sportband is a pair of headphones that connects wirelessly to your computer via Bluetooth connection. The Macintosh computer's Bluetooth Setup Assistant provides a simplified setup process by scanning the area for Bluetooth devices and displaying the detected device in its device list. Once connected, the JayBird can be used to listen to music or connected directly to the computer to charge the headphones' battery.
Step 1
Insert the USB cable into the connector port below the right earpiece. Insert the other end into the Mac's USB port.
Step 2
Click "System Preferences" on the computer's dock. Click "Bluetooth" in the System Preferences window.
Step 3
Press and hold "Power" on the right earpiece to turn on the headphones and set it to pairing mode.
Step 4
Click "+" in the Bluetooth window and click the JayBird headphones in the Bluetooth Setup Assistant window.
Step 5
Click "Continue" and enter "0000" on your computer's keyboard to enable pairing between the Mac and the headphones.
Step 6
Click "Done" in the Bluetooth Setup Assistant. Disconnect the USB cable from the computer's USB port and the headphones.