EBK files were e-books for the Embiid Reader software; the company that produced this software is now out of business, so Embiid Reader can no longer be purchased or downloaded. However, an enterprising Embiid user created a script that will convert existing Embiid EBK files into HTML, which can then be converted into a PDF. An Adobe PDF file is a preferable way of storing and reading e-books because they can be loaded onto most conventional e-book readers and do not lose formatting when viewed on multiple devices; page three will always be page three in a PDF.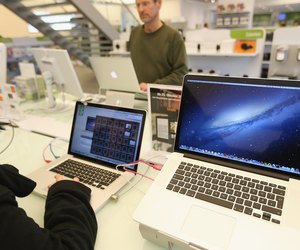 credit: Sean Gallup/Getty Images News/Getty Images
Convert EBK to HTML
Step
Create a new folder on your desktop called "Converted."
Step
Locate EmbiidReader.exe on your computer and move it into the "Converted" folder.
Step
Download the ZIP file from the link listed in the Resources section and save it your "Converted" folder.
Step
Unzip the file; it will contain one file called "embiid.py." Make sure this file is also in the "Converted" folder.
Step
Locate the EBK file(s) you want converted to PDFs and move them into the "Converted" folder.
Step
Launch the Command Line (Windows) or Terminal (Mac). Change into the "Converted" directory; if you don't know how to change directories, try typing the following:
cd Desktop/Converted
Step
Type the following command:
embiid.py
(Replacewith the name of the .EBK file you want to convert.)
Step
Repeat Step 7 for each EBK file. An HTML file with the same name as each book will appear in the "Converted" folder.
Convert HTML to PDF
Step
Open one of the converted HTML files in the "Converted" directory by double-clicking on it. It should open in your web browser.
Step
Go to "File" -> "Save As" and save the page as a PDF. (Mac only.)
Step
Go to "File" -> "Print" and select "PDFCreator" as the destination printer. Click "Print" and a window will appear asking where you want to save the resulting PDF file. Choose a memorable location, name the file, and click "Save." Your PDF should open automatically after it's done converting. If you don't have PDFCreator, download and install it (see link under Resources). (Windows only.)
Step
Repeat Step 3 for each e-book.