ICS files are considered the standard format for sharing calendar information and are used by Google Calendar, Apple's iCal and Mozilla's Sunbird. If you'd like to access and share a calendar's information in spreadsheet form via Microsoft Excel, it's possible to import the original ICS file into Excel as though it was a text document. While you may lose a little bit of formatting in the process, this is a simple solution for most people's conversion needs.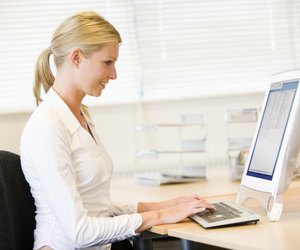 credit: BananaStock/BananaStock/Getty Images
Text Import in Microsoft Excel
Step
Launch Microsoft Excel.
Step
Go to "Fill," "Open" and change the "Files of Type" drop-down field to "All Files (.)."
Step
Double-click on the ICS file you wish to convert into an XLS. The Text Import Wizard will appear.
Step
Click the "Delimited" radio button in the "Original data type" box, then click "Next."
Step
Check the "Tab" box in the "Delimiters" section, then click "Next."
Step
Highlight the column(s) containing dates and click the "MDY" radio button to format them as dates (optional).
Step
Click "Finish."
Step
Go to "File" "Save As" and choose "Excel Workbook (*.xls)" from the "Save as Type" drop-down field, then click "Save."
Excel Calendar ICS Import Macro
Step
Download and install the Excel Calendar Import Macro (see Resources). As of early 2010, this macro costs $25.
Step
Highlight "Import From ICS File" in the "Select Task" box.
Step
Click "Browse" next to "File to Import" and double-click on your ICS file.
Step
Click "Do It" to start the import process.