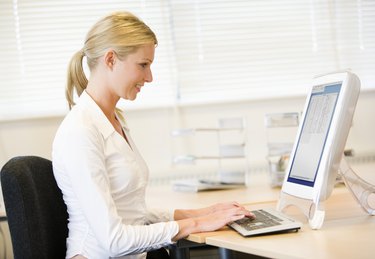 ICS files are considered the standard format for sharing calendar information and are used by Google Calendar, Apple's iCal and Mozilla's Sunbird. If you'd like to access and share a calendar's information in spreadsheet form via Microsoft Excel, it's possible to import the original ICS file into Excel as though it was a text document. While you may lose a little bit of formatting in the process, this is a simple solution for most people's conversion needs.
Text Import in Microsoft Excel
Step 2
Go to "Fill," "Open" and change the "Files of Type" drop-down field to "All Files (.)."
Step 3
Double-click on the ICS file you wish to convert into an XLS. The Text Import Wizard will appear.
Step 4
Click the "Delimited" radio button in the "Original data type" box, then click "Next."
Step 5
Check the "Tab" box in the "Delimiters" section, then click "Next."
Step 6
Highlight the column(s) containing dates and click the "MDY" radio button to format them as dates (optional).
Step 8
Go to "File" "Save As" and choose "Excel Workbook (*.xls)" from the "Save as Type" drop-down field, then click "Save."
Excel Calendar ICS Import Macro
Step 1
Download and install the Excel Calendar Import Macro (see Resources). As of early 2010, this macro costs $25.
Step 2
Highlight "Import From ICS File" in the "Select Task" box.
Step 3
Click "Browse" next to "File to Import" and double-click on your ICS file.
Step 4
Click "Do It" to start the import process.