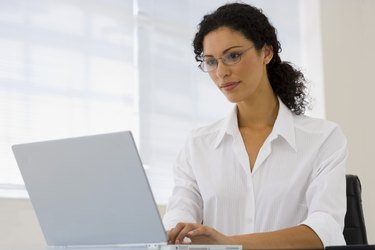 A SIG file is created by older version of Broderbund's Print Shop Deluxe software, used to create greeting cards, newsletters, signs, and other printed items. Although the Print Shop Deluxe series has been discontinued, a Print Shop Essentials program is still available to open SIG files and to create new cards and designs. Since SIG files can only be opened using Print Shop software, you'll need to convert them to PDF if you want to send them to the printer or share your designs with friends.
Step 1
Download and install the free trial version of Print Shop Essentials (see "Resources") if you don't already own the program. The free trial is especially useful if you only need to open and convert a couple SIG files and don't have further use for the software.
Step 2
Launch Print Shop Essentials and go to "File" "Open." Select the SIG file you wish to convert to a PDF.
Step 3
Edit the file, if necessary, so it looks exactly as you want it to appear in the PDF.
Step 4
Go to "File" "Save As" and choose "Portable Document Format (*.pdf)" from the "Save as Type" drop-down menu. Name your new PDF, choose a location you'll be able to remember, and click "Save."