As of March, 2010, it is not possible to add an SD card reader directly to an iPhone. (This may be changing. See the Tip.) If you wish to copy your iPhone pictures onto an SD card for transfer to another portable device, the best way to do this is with the computer you use to sync your iPhone's data.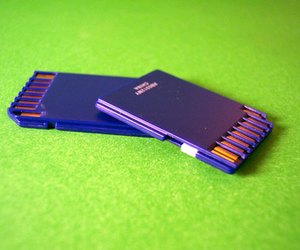 Step
Plug in the USB SD card reader, and insert the SD card. It will appear as an additional storage drive on your computer.
Step
Connect the iPhone to the computer, and sync it as you normally would with iTunes. Your photos will be stored in Windows Photo Gallery, or in Apple's iPhoto, depending upon your operating system.
Step
Drag the photos to the SD card to copy them. A copy will remain on your computer.