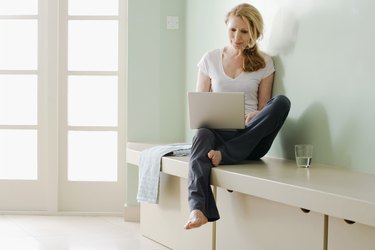 Create a free electronic signature to add a personal touch to emails and letters. An electronic signature also can be used to sign legal documents and agreements or to add a formal impression to correspondences. Free programs on the Web can be used to create an electronic signature that is personalized for your own use.
My Live Signature
Step 1
From the home page, click "Proceed." You will be asked to select from the three available options by clicking "Using the signature creation wizard," "Draw a signature straight to the screen," or "Using a scanned image." The scanned image option is the only choice that is not a free option.
Step 2
If you chose "Using the signature creation wizard," on the following pages, choose the desired font, font size, colors and slope by clicking on a selection for each. After making the selections your signature file will be completed, at which time it will prompt you for further options including tools to animate your signature, download your signature or use your signature by copying the provided HTML code.
Step 3
If you chose "Draw a signature straight to the screen," on the following page use your mouse or other pointing device to draw your signature directly on the screen. When you are finished, click "Create Signature." A window will appear prompting you to "Open" or "Save" your signature file.
My Free Signature Maker
Step 1
On the home page, enter your name and desired font size.
Step 2
Choose your desired font color from the drop-down menu and click "Submit."
Step 3
Select a signature and save it to your computer by right-clicking on the image of the signature and selecting "Save Picture As…"
Sig Maker
Step 1
From the Sig Maker page, click on each tab to fill in your desired options. Under "Background Layout," click to select banner size, color and background options.
Step 2
Under "Text and Fonts," enter your desired text and click to select the font type, size and color. Under "Shadows and Effects," select your desired shadow position, offset, color, text outline and text outline color.
Step 3
Under "Border," click a selection to add a border to your signature. Under "Clip Arts/Images," click browse to select an image to add to your signature.
Step 4
Under "Format," click to select either JPEG, PNG or GIF and click "Download It" to save your completed signature file.