Adobe Acrobat's Portable Document Format, or PDF, has quickly become the standard for secure document sharing online. Acrobat's broad functionality allows it to create PDF documents from many file formats. However, you do not need complicated publication software to create PDF files; they can be created even from WordPad, Microsoft Windows' most basic word-processing program.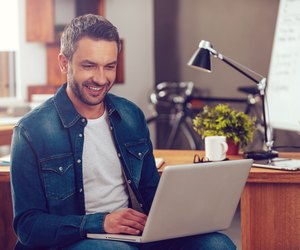 credit: g-stockstudio/iStock/Getty Images
[Note: The following steps were outlined using Adobe Acrobat 9. However, general functions of the Acrobat program have remained relatively consistent over the years, and these directions should assist users of most recent Acrobat versions.]
Step
Open both WordPad and Acrobat, and make WordPad the active window.
Step
Create your document in WordPad and save the file to My Documents (or a preferred folder). By default, WordPad documents save in rich text format (RTF), which is perfectly compatible with Acrobat. Be sure to close the document afterward.
Step
Click "Create PDF" in the "File" menu, then select the "From File" option. (Alternately, you can click on the "Create" button in the toolbar and then choose "PDF From File.") The Open dialog box appears.
Step
Locate your file in the Open dialog box, single-click the file, and then click "Open." (Alternately, you can double-click the file name.)
Step
Wait for Adobe to complete the conversion process. Conversion times can vary based on the size and complexity of the file, but RTF documents will generally convert quickly.
Step
Save the new PDF file when it appears, using "Save As" in the "File" menu.