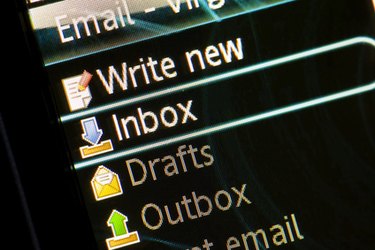 Microsoft Outlook gives users the option to create voting buttons to easily poll others for responses to questions they send out in email. These are ideal for voting on locations, accepting or rejecting items or simply voting yes or no to an option. You can use the default buttons or customize your own buttons in a few simple steps. Outlook will also track all of the responses in a central message in the Sent Items folder for quick review.
Step 1
In Outlook, create a new message by clicking "New," then selecting "Message."
Step 3
From the Tracking group, select "Use Voting Buttons." A drop down box will appear with default options (Approve; Reject / Yes; No / Yes; No; Maybe / Custom...)
Step 4
Select "Custom..." and wait for the Message Options dialog box to open.
Step 5
Under Voting and Tracking Options, check the "Use Voting Buttons" check box if it is not already checked.
Step 6
Clear the default contents from the Use Voting Buttons text box.
Step 7
Type in your own options for the voting buttons, and separate each button option with a semicolon. An example looks like this: Florida; Hawaii; Cancun. This example would give the user three buttons: one for Florida, one for Hawaii and one for Cancun.
Step 8
Click "Close" to return to the message.