When you learn a single Microsoft Office Suite product, you're actually gaining the knowledge you need to operate at least five other programs, all with similar navigation and features. In many cases, for example, the process of performing a task in Word is essentially the same as in other Suite applications such as PowerPoint and Publisher, with minimal differences. For a craft such as making a jigsaw puzzle, there are absolutely no differences among programs regarding how you create the image.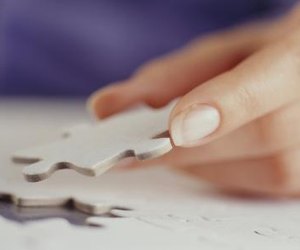 Step
Open Word, PowerPoint or Publisher. Word and PowerPoint both default to a blank page/slide on the screen. For Publisher, click the "Blank 8.5 x 11" button in the top-left corner of the "Available Templates" screen.
Step
Click the "Insert" tab at the top of any of the three program's workspaces. Click the "Picture" button.
Step
Browse to the image you wish to use for the jigsaw puzzle. Double click the image and it opens on the page. Click the image to give it focus, then drag it into your preferred place on the page. To shrink the image, click its corner, press the "Shift" key and drag the corner towards the picture's middle. Enlarging the image is not advised, as this is likely to result in a blurry or pixelated graphic.
Step
Click the "Shapes" button on the "Insert" tab. From the drop-down menu, select the "Scribble" tool, which is the squiggly line at the end of the "Lines" section. Note how the cursor changes to a pencil tool.
Step
Position the cursor on the picture. Click and hold down the left mouse button. Draw the lines to form the puzzle pieces, with the "holes" and "plugs" where the pieces fit together. Do not lift your finger from the left mouse button, but continue to keep it pressed down as you draw. If you lift your finger, the software thinks you have finished with the "Scribble" tool and surrounds the lines with a box. If this happens, simply re-click the "Scribble" tool and continue.
Step
Release the mouse button and a new orange "Drawing Tools" tab appears. Click the "Shape Outline" button on the ribbon. Click "Weight" and select the "3 pt" option, making the lines thick enough for you to easily cut through when separating the puzzle pieces.
Step
Click the "Shape Outline" button and select a new color for the puzzle pieces, if you wish.
Step
Click the "File" tab in any of the three programs. Click the "Save As" option. Enter a name for the puzzle in the "File name" box, select the destination to which you want to save the file -- such as your Windows desktop -- then click "Save."