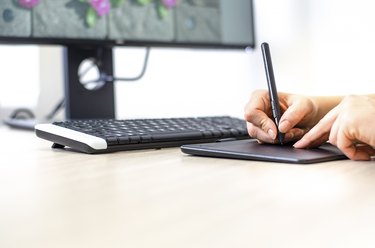 The Adobe Illustrator software package provides users with a wide array of powerful drawing, illustration and layout tools. Whether you are an aspiring graphic artist or a working professional, Illustrator is one of several tools that should become an integral part of your working toolkit.
Much like any of the premier graphics applications available today, Illustrator provides users with the ability to accomplish simple tasks in addition to more complex operations. If you are attempting to crop in Illustrator, you can do so using a series of simple steps.
The Basics of Adobe Illustrator
Adobe Illustrator is one of several professional-level graphics applications designed and sold by the Adobe corporation. One of the primary differences between Illustrator and its popular counterpart, Photoshop, is the means by which images are edited and exported. Whereas Photoshop works primarily in a pixel-based format, Illustrator focuses on vector-based work.
Images and artwork created using vectors can be scaled to any size without any degradation of clarity or resolution. With that in mind, Illustrator has become an industry-standard application for graphic artists who are generating new work rather than simply editing pre-existing photos and other digital media.
Tools You Need to Know in Illustrator
Cropping is one of several functions that can be accomplished quickly and easily in Illustrator. That being said, it may be worth your time to explore the combination of tools available in Illustrator in order to ensure that you can get started with your work immediately.
The scissor tool in Illustrator is one of several common utilities that you will undoubtedly use. This particular tool allows you to cut out, move and delete specific sections of an image with a high degree of precision. For example, if you are attempting to remove a small portion of a larger image while preserving the integrity of the graphic content surrounding it, the scissor tool may be your best solution.
If you have used previous versions of the software, you may be familiar with the knife tool in Illustrator. However, Illustrator 2019 does not include this specific tool in the "Essentials" view of the workspace. Switching your workspace to the "Essentials Classic" mode, however, will bring the knife back to its original location.
Completing a Crop in Illustrator
To complete your crop, your first step should be to select the "Crop Image" option from the "Object" menu found in the toolbar at the top of your workspace. At this point, a small selection box should appear that will allow you to define the bounds of your cropped area. As you modify the cropped area, you should notice that Illustrator provides you with the current dimensions of this region.
This is particularly useful if you are planning your crop around spatial constraints within a larger document. Once you have selected the area you would like to crop to, you can simply press your "Enter" or "Return" key to complete the process. You should notice that the image onscreen has been cropped to your specific preferences. If you find that this crop is not exactly what you intended, you can return to the pre-cropped image by using the "Undo" command specific to your keyboard.