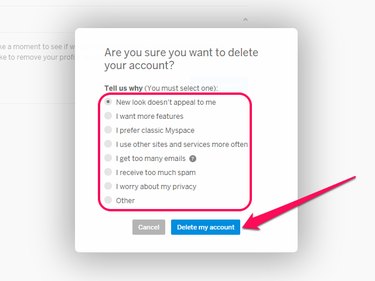 If you do not use your Myspace account anymore, you may want to permanently cancel your account, for example, to stop receiving email notifications or to simply have one less social media account to maintain. You can delete your Myspace account from within the Account Settings window by selecting Delete Account.
Step 1
Log in to Myspace and click on the Cog icon in the Deck. Select Account to open the Account Settings screen.
Step 2
Select Delete Account to expand that section.
Step 3
Click on the Delete Account button.
Step 4
Select the reason that made you want to delete your account and click on Delete My Account to finish deleting your profile.
Tip
Before deleting your account, save any files or text posts you may want to keep, such as photos or messages from friends. If you are unable to log in to your Myspace account because you forgot your password, click on "Forgot Password?" on the site's sign in page to start the password recovery process. This process, however, requires you to still be able to access the email account you originally signed up with. If you do not have access to that email account anymore, Myspace requires you to send the company an online declaration of ownership. Fill out the form with your personal details -- such as your previous and current email addresses and your username -- and select "Delete My Account" under "Declaration Purpose." After successfully sending the form, wait for Myspace's support team to review your declaration and contact you by email.
Warning
Myspace cannot restore deleted accounts. Do not delete your account if you think you may want to use your old profile again at some point in the future.