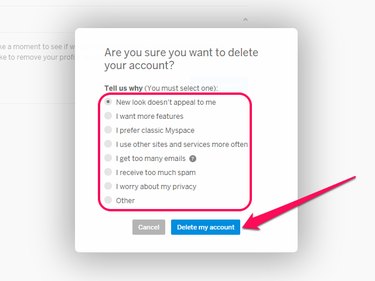 If you do not use your Myspace account anymore, you may want to permanently cancel your account, for example, to stop receiving email notifications or to simply have one less social media account to maintain. You can delete your Myspace account from within the Account Settings window by selecting Delete Account.
Step 1
Log in to Myspace and click on the Cog icon in the Deck. Select Account to open the Account Settings screen.
Step 2
Select Delete Account to expand that section.
Step 3
Click on the Delete Account button.
Step 4
Select the reason that made you want to delete your account and click on Delete My Account to finish deleting your profile.