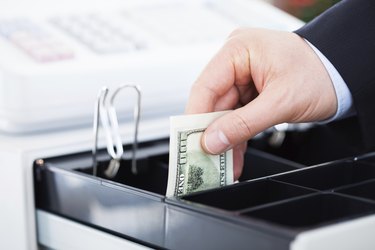 The QuickBooks accounting program splits incoming payments into two categories: Deposited payments, and undeposited funds. The first category is used for payments that you individually record and deposit into the bank. The second category acts as a holding account for several transactions; it's typically used if you receive small payments throughout the day, such as at a cash register, and then deposit all the money together as a bulk transaction. If you make a mistake or decide not to accept a payment, you can use the Edit menu in QuickBooks to void or completely delete either of these payment types.
Delete a Deposited Payment
Step 1
View the QuickBooks home page and click the "Record Deposits" icon in the Banking section to display the Make Deposits view.
Step 2
Click "Cancel" if the "Payments to Deposit" window appears. You do not need this window to delete a payment.
Step 3
Locate the specific deposit that you want to delete. If you do not see it, click "Previous" until you locate the correct entry.
Step 4
Select the "Edit" menu, then "Delete Deposit." A warning displays, asking you to confirm the action. Press "OK" if you are sure you want to delete the payment.
Delete a Payment from Undeposited Funds
Step 1
View the QuickBooks home page. Select the "Lists" menu and choose "Chart of Accounts." You can also press the "Control-A" keyboard shortcut.
Step 2
Double-click "Undeposited Funds" to display the register for this type of funds.
Step 3
Select the specific payment that you want to delete. If you don't see it, use the up and down scroll buttons to review the list of transactions.
Step 4
Open the "Edit" menu, and click "Delete Payment." Press "OK" to delete the the entry after the warning box appears.