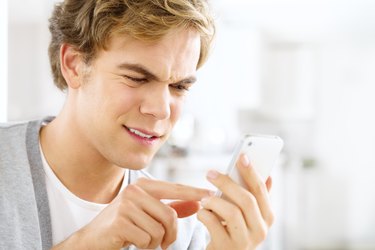 Although the terms and conditions of the iTunes Store state that all sales are final, you do have the option to dispute app purchases and request a refund through iTunes. This is useful if you didn't authorize a purchase, made a mistake downloading an app, or find that an app has certain technical problems or just doesn't do what the developer said it would. To request a refund, you need to send Apple a report ticket outlining your issue.
Step 1
Open iTunes, select "Store" from the top menu and then select "View Account." Make sure that you use the account from which you purchased the app. When prompted, enter your password to log in to your iTunes account.
Step 2
Go to "Purchase History" on the Account Information screen and select "See All." If the app does not appear in the Latest Purchases area, use the "Next" button to scroll through past purchases. You can also search by month and year -- if you use this option, click "Jump" to go to your chosen date. When you locate the app, select the right-arrow next to it to open its invoice.
Step 3
Select the "Report a Problem" button. If you're taken to another Purchase History page, select "Report a Problem" again. If the invoice is for multiple purchases, make sure to select the button next to the relevant app. This opens a new window in your browser. Enter your password and select "Sign In."
Step 4
Select "Report a Problem" next to the app you want to report. Select "Choose a Problem" and read the options in the drop-down menu. Use preselected options if you didn't authorize the purchase, didn't mean to make the purchase or downloaded the wrong app. There are also options for technical issues, so choose one of these if the app didn't download, didn't install or didn't do what you expected it to do. If none of these options matches your problem, select "Problem is not listed here." When you select most options, you provide additional details in the "Describe this problem" box and then select "Submit" to send a report to iTunes. You should receive an email confirming receipt of your report. If you choose "I didn't authorize this purchase," you should click the "iTunes Store Support" link to get immediate help.
Tip
You don't have to go through iTunes to dispute an app. If you prefer, go directly to reportaproblem.apple.com.
You can also use the "Report a Problem" button in your iTunes email receipt to start the reporting process.
Apple has set up a direct email support ticket for parents whose children have downloaded in-app purchases without permission. If this is the reason why you want a refund, take this route rather than reporting purchases through iTunes.
Warning
There is no guarantee that Apple will rule in your favor and give you a refund. It may not refund a purchase simply because you don't like the app.
You have only 90 days from the purchase date to dispute an app through iTunes. If you have an older app, you need to contact iTunes support.
You can use this process only from the account that made the purchase. If you're using an app in Family Sharing, you need to get the person who purchased it to make the report.
The steps in this article are based on iTunes 12.0.1. The process may be different in earlier versions.