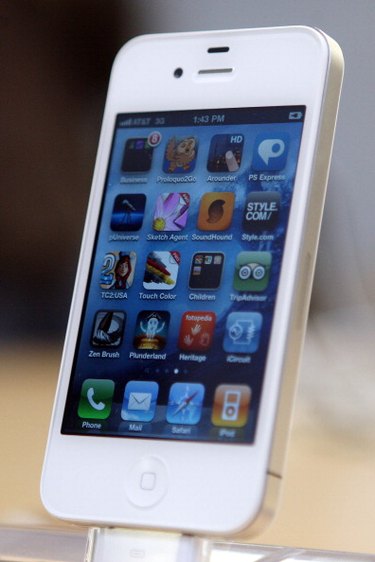 The iPhone's built-in camera allows you to capture the moment no matter where you are. If you want to give your pictures a little personal touch or creative flair, though, you can download apps for your iPhone that allow you to draw directly on them. Some apps offer a more specialized customization, such as adding comic book-like speech bubbles or distorting faces with funhouse effects, while others let you draw and paint over your photos.
Step 1
Download and install Swakker Doodle from the App Store on your iPhone. Tap the button that looks like a grid to access and choose one of your saved photos from your albums. Tap the star-shaped button to add stickers. Tap the blob-shaped button on the far right to select a color and a width for drawing. Use your finger to draw over the photo. Tap the shirt-shaped button at the top of the screen to print this image on a product, like a mug or a T-shirt.
Step 2
Download and install Paint on Photos from the App Store. Tap the camera-shaped button to select and open a photo. Tap the pen-shaped button to select a color. Use your finger to draw. Tap the eraser-shaped button to erase your marks. Tap "Save" when you are done.
Step 3
Download and install Sketches from the App Store. Tap the "+" symbol to create a new sketch. Tap the rectangle-shaped button ("Backgrounds"), then tap "Album" to select one of your photos or "Camera" to take one. Tap the crayon-shaped button to select a color; tap the circle and triangle to insert shapes. Use your finger to draw or place shapes. Tap the box with the arrow to share the photo with your friends.