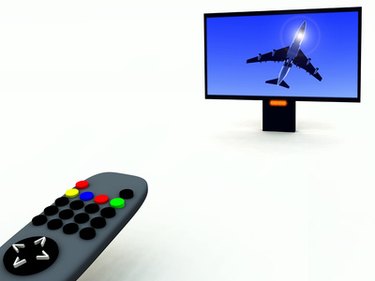 Many people rely on their DVRs to bring them the TV shows and movies that they wouldn't be able to watch otherwise. The problem with a DVR is the amount of space that you will need to house all of the movies you want to keep. Downloading these shows from your DVR to your computer is a solution that will free up the memory on your DVR as well as give you a backup for anything that might happen to the DVR hard drive.
Step 1
Go to your DVR box and look for the USB port, which can be found on the back or front of the DVR. Plug your USB cable into the USB on the DVR, then plug the other end into an available USB port on your computer.
Step 2
Turn on your computer and allow it to boot to the Windows "Login" screen. Enter your username and password into the respective fields. Press "OK" and wait for the computer to boot into the main Windows screen.
Step 3
Turn on your DVR box from the power button on the front of the unit. Let the DVR load to the main screen.
Step 4
Go back to the desktop on your computer and double-click the icon for your video capture software. Allow the software to load, then click the "File" menu at the top of the window. Select "New" to start working from a new template.
Step 5
Return to your DVR box and find the movie you would like to record. Select it with your remote. Press the "Pause" button on the remote as soon as the movie begins.
Step 6
Go back to your video capture software. You will see a small window in the top right-hand side of the screen in which the movie is streaming from your DVR through your USB cable. The small window in the video capture software package should show your movie as "paused" position, and it acts like a tiny monitor of what is being recorded. Press the "Record" button on the top left-hand side of your video capture software window.
Step 7
Press "Play" on your DVR remote and wait for the movie to record in its entirety on your video capture software. Press the "Stop" button on your video capture software when the movie is finished.
Step 8
Press "Stop" on your DVR when the movie has finished playing and choose to "Save" or "Delete" the movie when prompted.
Step 9
Return to your computer and click the "File" menu at the top of your software window. Click "Save As". Save the file to your "Desktop" by choosing it from the drop-down menu on the window.