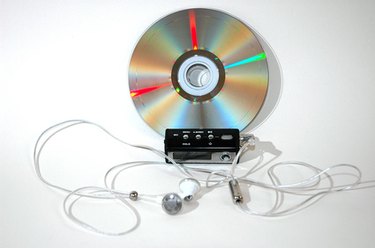 Soulseek is a freeware program that allows people to share files, chat and socialize. The program contains a large array of groups for music lovers of all types, along with an Internet browser. Updated every few months, the Soulseek client is a very low-key program with a loyal and close-knit user base. Among Internet denizens, Soulseek is known for the vast array of music available through peer connections that a user accesses through search. Downloading music from Soulseek is simple, but it's important to observe common courtesy while getting your tunes. Otherwise, a ban may be in your future.
Step 1
Open the Soulseek client and allow it to load. There's a box in the upper right corner that will be green with an electric current when the program is connected to the server. If the box is purple, the program isn't connected to the server, and there won't be any file sharing.
Step 2
Set up your Soulseek program for downloading if this is your first time. Click on the "File Sharing" box at the top of the program. This will open up a box that allows you to select a folder for saving your downloads.
Step 3
Create a new folder to save files. On your desktop, right-click and select "New Folder". Name this folder something memorable and press "Enter" to finalize.
Step 4
Set up the location for your downloads. Browse to your "Save" folder on your computer and highlight it. This folder will pop up in the box. Click "OK" to exit and save the settings.
Step 5
Set up your transfer protocols. Click on the "Transfer" box. At the side of the topmost window are two boxes, "Max D/L" and "Max D/L KBPS". If you want to maximize your download capabilities and use the maximum amount of bandwidth, set both to zero. Otherwise, select a number. Keep in mind that zero, or a high number like 9999, will allow very fast downloads.
Step 6
Search for music. Click on the "File Search" box. Enter the name of a band, album or song in the search box and press "Enter" to begin the search. Soulseek will send back a list of results. For the most part, what comes up in the first minute is all that's available for that search term. The black results are for immediate download; gray results entail a wait. Complete albums will be grouped together, and may be downloaded in sequence. To see how many members are in line for a particular file, move the bottom screen bar over to view the "In Queue" column.
Step 7
Select a file or album to download. Look for a file that has a high download speed and black print for the fastest service. To download an entire album, right-click on the name and select "Download Containing Folder" from the list. For just one song, double-click the name. The "Transfers" window should highlight if your selection has been successful.
Step 8
Check your downloads to make sure that the process worked. Click back over to "Transfers". The files will be listed in order of selection. Files that are waiting say "Remotely Queued", while files that are downloading will say "Initializing". When the download begins, a numerical download meter will pop up to measure the download amount and completion percentage.
Step 9
Clean out finished files when all downloads are done. Right-click on a complete download and select "Clear Finished Transfers". This will clean out all of the finished downloads.