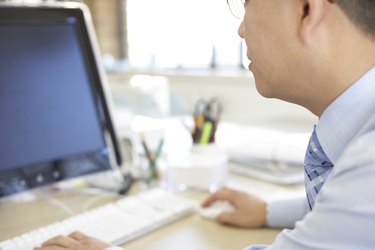 It is not commonly known that a text message can be sent to a person's cell phone from a computer through an email account. Most cell phone carriers offer free Short Messaging Service, or SMS, and Multimedia Messaging Service, or MMS, gateways. These gateways convert emails into mobile phone messages. AT&T has a gateway for both SMS and MMS messages. By following a few steps, you can send short messages to someone's AT&T cell phone without stepping away from your computer.
Step 1
Acquire the 10-digit cell phone number--area code included--for the person receiving the message.
Step 2
Log into your email account and draft the message you want to send. Draft the message in the same way you'd draft an email. AT&T allows 160 characters for an SMS message. The characters used in the subject line are included in the 160 characters. If the message contains more than 160 characters, the message will be split and the recipient will receive the message in more than one text.
Step 3
Attach media files that you want to send. To attach a media file, use the attachment tool in your email program in the same way you'd attach files to an ordinary email. Media includes video, image and audio files. The size of media that can be accepted is cell-phone specific.
Step 4
To send an SMS message through the AT&T network, type the recipient's 10-digit phone number before the carrier gateway @txt.att.net in the address window. To send an MMS message, use the carrier gateway @mms.att.net. For example, if sending an SMS message to cell phone number 1234567890, the "To:" line in the address bar will read "To:1234567890@txt.att.net". If sending an MMS text to the same number, the "To:" line will read "To:1234567890@mms.txt.net".
Step 5
Hit the send button. Sending a message to a cell phone is the same as sending an email to another email account. The recipient should receive the message on his cell phone in the form of a text.