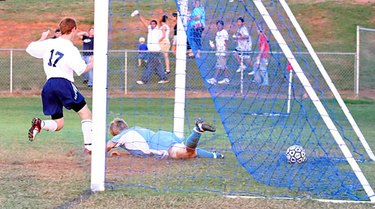 If you want constant updates on sports news and scores, you can get a sports ticker or "widget" for your website or social network profile. You don't need to download or buy anything to display sports updates on your Web page. There are websites that will allow you to choose the information you want and give you a code to embed it into the HTML of your Web page for free. This is especially useful if you own a website for sports enthusiasts.
Tickers Using Iframe Codes
Step 1
Open your HTML editor for the page where you want to add the sports ticker. You can do this on your Myspace profile page by editing your "About me" section, or any other profile editor that allows you to include HTML.
Step 2
Enter this code into the HTML of your Web page or profile where you want the ticker to appear:
This is an "iframe" code, which will allow you to display a different Web page within a small section of another Web page (your page or profile). The height needs to be 44 pixels to fit the ESPN "Bottom Line" ticker.
Step 3
Copy and paste the URL for the ESPN "Bottom Line" ticker into the iframe code between the quotation marks after "iframe src=":
Save the HTML page and view it to see your sports ticker in action.
For the SportzNetwork.com sports ticker, also using iframe code, copy and paste this code into your HTML:
FeedZilla Sports Widget
Step 1
Log on to "FeedZilla.com" if you want to add a sports ticker to your website that is specific to your favorite team or sports game. Choose the topic of "Sports" from the topic drop-down menu and pick the sub category that you want ("Basketball-NBA", for example).
Step 2
Choose which kind of code to use to embed your sports ticker from the options under "Install this widget to..." If you are not sure which one to choose, click on "HTML", which is the most basic code. Change the size of your ticker by entering a different size (in pixels) in the height and width boxes. You can also change the colors if you want by clicking on "Advanced customization options".
Step 3
Right click on the code at the bottom of the page and select "Copy." Open the HTML for the page that you want to add the sports ticker and right-click "Paste" where you want it to appear on the page. Save the page.