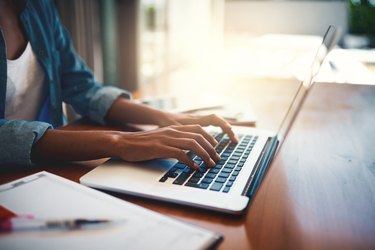 Every person and page on Facebook has a unique web address, or URL, to identify it and let you navigate directly to it in your browser. If you are friends with someone on Facebook already, you can visit their Facebook page in your browser to grab the Facebook URL. Otherwise, use Facebook's search tools to find their profile and get the URL. Also, developers of apps can potentially get permission to access Facebook ID numbers, URLs, and other information about their app users.
Finding a Facebook URL
While you're browsing Facebook on a desktop or mobile browser, you may notice that your browser displays a unique web address for each page and profile you visit. Each person on Facebook has a unique Facebook URL, and you can copy this link to revisit later or to send to others so they can see the same profile and page you're viewing.
On Facebook mobile apps, you can usually access a profile URL by tapping the "More" button and then tapping "Copy Link to Profile." If you're using a mobile app that doesn't have this feature, try using a web browser instead to access the same profile.
Keep in mind that Facebook pages can look different to different people based on privacy settings and who they are friends with, so if you send someone a link to a Facebook page, they may not see exactly what you see.
Setting Your Facebook Username
By default, Facebook generates a Facebook URL for you based on your name on the site, but you can also generate a custom Facebook username that appears in your URL. This is helpful if you want a URL that's easy to remember and share.
Visit the "Settings" menu on the Facebook website or app and then click or tap the "General" tab. You should see the option to set a custom username on that page. The app or site does a quick Facebook username search to make sure the one you want is not already taken. Also, you may not use a username that impersonates someone else or is otherwise offensive according to Facebook's rules.
Developer Options
If you're developing an app that allows for Facebook login, you can ask for permission to grab profile URLs for your users. You can use this to allow users to discover and potentially friend each other, for example, from within your app.
Read the Facebook API and developer guidelines for details on how this works and which uses are and are not permitted.
Searching on Facebook
If you need to find someone on Facebook and don't have a URL, use the built-in search tools on the service's app or website. Remember that you can narrow searches by where someone lives, works or goes to school if that is helpful.
People with whom you have mutual friends are often highlighted in Facebook searches, which can be useful in finding new acquaintances on the social network.
You can also upload contacts from your phone to search for them on Facebook.