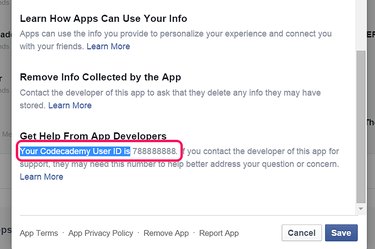 Every Facebook account has a unique ID number used for identification. One way to get your Facebook ID is from the Settings page of any Facebook app that you use. A second way is to edit the Web address, or URL, of a Facebook profile.
Finding Your Facebook ID in Settings
Step 1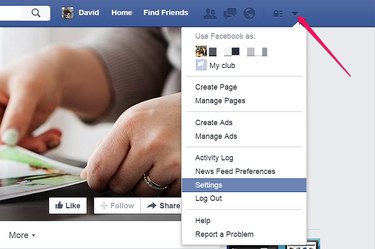 Log in to Facebook. Click the Arrow menu icon and select Settings.
Step 2
Click the Apps icon in the left menu. Hover the cursor over any app and then click the pencil-shaped Edit Settings icon that appears.
Step 3
Scroll down to the Get Help From App Developers section. The number in the first sentence is your User ID for that app and your Facebook User ID.
Changing the Facebook URL
Step 1
Log in to Facebook and go to any profile or page. To get to your own profile, click your profile picture beside the Facebook search field. Drag the cursor over www in the URL to highlight it.
Step 2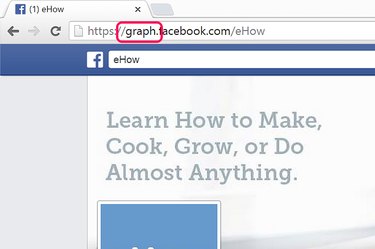 Step 3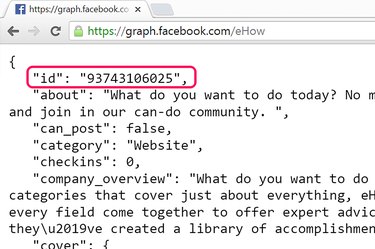 Press Enter. The Facebook ID is the number displayed in quotation marks in the first line.
Tip
If you use Facebook advertising, you can find the ID for a Facebook ad account, campaign or for a specific ad. Go to your Facebook Ads Manager page, and click on an account, a campaign, an ad set or an ad. The ID is displayed at the end of the URL, such as "account_id=1234567890."
If you joined Facebook when it was accessible only to university students, you can use your Facebook ID to estimate which user you were. Harvard students were issued numbers between 0 and 99,999. Columbia students had a "1" placed in front of their numbers, and Yale students were given a "2." So if you went to Yale and your ID is "204,000," for example, then you were hypothetically the 4,000th Yale student to join Facebook. It's unknown how the numbering system worked after Facebook was opened to the public.