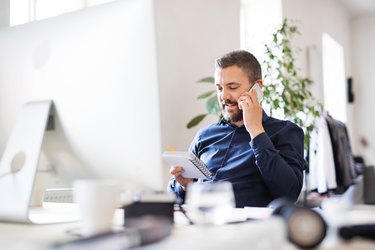 If you want to send mail to a prisoner at many U.S. prisons and jails, or ask the prison for information about the inmate such as scheduled release date, it's often necessary to have the person's prisoner number. You can often find this information through an online inmate lookup system provided by the government agency that runs the prison or through a state or federal corrections agency.
What's an Inmate ID Number?
Whether someone is held behind bars temporarily awaiting trial or has been sentenced after pleading guilty or being convicted of a crime, he or she is typically assigned a unique prisoner number. Prisoners typically memorize this number for use on internal forms at the institutions where they're being held, but they can also be useful or even necessary to loved ones, attorneys and others outside who wish to communicate with the prisoners, send them money or communicate with the prison or jail about them.
Typically in the United States, a jail is an institution that holds people awaiting trial or on short sentences, while a prison incarcerates people who have been convicted of a crime, especially those serving longer sentences. The exact meaning of these terms can vary from institution to institution, and it's possible for penal systems to hold long-term prisoners in local jails due to crowding or budgetary issues.
If you're writing to someone in prison, make sure you understand the full address you need to use, including the inmate's name, ID number and any street address or post office for the prisoner. You may need to contact the prison for help addressing any mail properly. Also make sure you don't include anything that's not allowed to be sent to the prison.
Finding a Prisoner ID Number
Depending on the state and institution where someone is being held, a prisoner ID number can be of various lengths and formats. Some contain only numbers, while others may contain letters or punctuation such as dashes. In some cases, if someone moves from one institution to another upon being convicted of a crime or while serving a sentence, the prisoner ID number used for that person may change.
If you're in touch with a person who is in jail or prison, you can ask that person for his prisoner ID number. You can also try asking the prisoner's lawyer or the law firm representing the prisoner for that information. If that's not an option, you can often find the prisoner ID number through various online search tools.
Check the website of the jail or prison that is holding the person you're trying to search for. Many have "find a prisoner" tools that can tell you if a person is incarcerated, when that person is expected to be released or next appear in court and other information, such as why that person is in prison or jail. In some cases, these websites are run by local agencies such as a county sheriff's office or city corrections department, and in other cases, they're run on a statewide level.
If you're not sure what agency will have the prisoner ID number of the person you care about, use a search engine to find the website for the prison or jail in question and to find the state corrections agency. Look for an inmate search tool and enter the person's name and any other requested information.
Searching for a Federal Prisoner
If the person you're looking for is in federal prison, you can use the federal Bureau of Prison's inmate locator tool. Visit the page and enter the person's name to look up the prisoner ID number and other relevant information.
Write down, print or otherwise record the prisoner ID number once you have it.