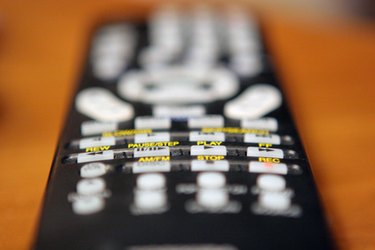 Toshiba America electronic components include universal remote controls that correspond to all Toshiba television, VCR and DVD player models. These remotes come with a program code, but can be used even if that code is lost or misplaced.
Types
Universal remotes manufactured by Toshiba are meant to be an all-in-one, device-based replacement. They can control multiple components at the touch of a button, which are all labeled and easy to identify.
Significance
All Toshiba universal remotes come with a "Recall" or "Setup" button that can be used in lieu of a remote code. Simply hold it down after manually turning on the device you wish to control. Press the corresponding button for the device, then hit the power button on the remote repeatedly until the device shuts off. Finally, press "Enter" on the remote.
Cost
The cost of a universal remote can range from a few dollars to a few hundred dollars, as of 2010. The difference hinges on the interface and design, along with the number of devices it can control.
Other Considerations
Instead of doing a full reset on a remote, codes can be obtained directly from Toshiba or any numbers of third party websites like TV Remote Codes. When contacting the company, remember to have ready the model number of the device you wish to program.
Prevention/Solution
If the code to a remote is misplaced, it may be written on a sticker inside the battery cover. If not, you can easily create your own using a small piece of tape and a permanent marker.