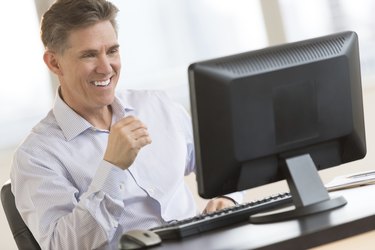 Although a processor is one of your computer's physical components, you don't need to open your computer's case to find out the type of processor you have. Windows has utilities -- such as the System Information and PC Settings utilities -- that display information about the software and hardware installed on your computer, including your computer's processor. Knowing your computer's speed is important because many programs require that a computer's processor has to be above a specific speed in order to run efficiently.
Open the System Window
Step 1
Press the "Windows" key, then type "Computer."
Step 2
Select "This PC" from the Results list, then right-click on an empty area of the window.
Step 3
Select "Properties" from the menu. Your computer's processor information appears next to "Processor" in the System section.
Use the PC Settings Utility
Step 1
Press "Windows-I" to open the Settings charm.
Step 2
Click "Change PC Settings," then select "PC and Devices."
Step 3
Select "PC Info" to display information about your computer. The processor information is listed next to "Processor" in the PC section.
Launch the System Information Utility
Step 1
Press "Windows-R" to open the Run command.
Step 2
Enter "msinfo32" in the Open box.
Step 3
Click the "OK" button to open the System Information utility. The right pane of the window has detailed information about your computer's components. Information about your computer's processor appears next to "Processor" in the list of items.