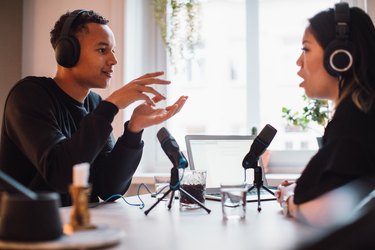 Podcasts have exploded in popularity over the past few years, inspired by the breakaway success of programs like "Serial" and the ability to easily browse and download podcasts through iTunes and the Apple Podcast app. Listeners can find dozens if not hundreds of podcasts revolving around their specific interests, and with a variety of funding sources to choose from, it's easier than ever to earn money by podcasting. However, it can be difficult to determine if your podcast is growing in popularity or reach and, as a result, whether it might appeal to advertisers without knowing how many people listen to your program. Although it can be incredibly difficult to find the exact number of listeners, methods exist to estimate podcast listener numbers.
The Trouble With Podcast Analytics
When it comes to the task of developing a podcast and growing an audience, the benefits of the podcast format become an unexpected problem. Because podcasts are a decentralized form of media that can be downloaded from any number of independent websites, hosting networks, and aggregation services or programs, there is no way to get a simple tally of how many people have listened to a given podcast episode. As a result, the business of podcast analytics is built around estimates by getting a general idea of episode consumption through means other than podcast download numbers. Even the Podtrac Podcast Rankings and the iTunes Top Podcasts List – considered the gold standards in podcast ranking – work off of this idea.
Player Listens and Subscriber Numbers
The easiest way to estimate the number of people listening to a given podcast is to take a look at the number of subscribers and the number of times someone has hit the "Play" button on an embedded player. Access to this information varies depending on the way the podcast is hosted and distributed, but taking a look at the number of people subscribed to the podcast on iTunes, Spotify, or Google Play can give you an idea as to how many regular listeners the podcast has. At the same time, podcasts hosted through SoundCloud can be tracked loosely through the number of total plays for a given track, although you may need to divide the number of listeners by the number of weeks the episode has been available. Certain embedded players on podcast websites also note the global number of plays, but none of these estimates provide an exact number of listeners. Some listeners download episodes regularly without subscribing or use direct download links rather than embedded players.
Website Analytics and Other Options
Advanced methods are necessary to obtain a more accurate estimate of a podcast's listener numbers. Some podcast hosting services including iTunes provide listener analytic data upon request from a producer. This data often tracks listeners by IP address and device to offer a less generalized estimate than an examination of subscriber numbers or episode plays or downloads. Podcasts hosted on independent websites can have their listeners tracked more closely through the use of website analytic services such as Google Analytics. As long as the tracking is enabled on the specific page the podcast is accessed through, it is possible to track the number of unique page visits to estimate listener numbers. Ultimately, however, a combination of methods is required to estimate the reach of a podcast, given that modern podcasts are rarely distributed through a single service.