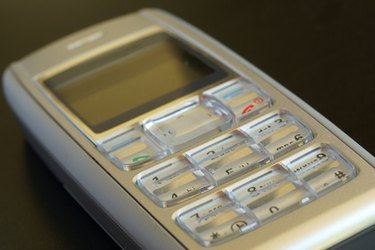 Some cell phones require a password to access certain secure or additional features. Typically, you set the password when you purchase a cell phone. But sometimes you may forget your cell phone's password, and you may not have recorded it elsewhere as a backup. If the phone was activated using your name and phone number, it is very simple to find out the password and get back to using all of its features.
Step 1
Turn on your phone and open the main menu.
Step 2
Navigate to "Settings" and then "Tools."
Step 3
Find the "Security" tab. Navigate to the box labeled "Password." If you have just purchased and activated the phone, the default password will be the last 4 digits of your phone number. Enter these numbers to proceed and change the password to something of your own choice.
Step 4
Call your service provider's customer service line if you have already altered the password, but have forgotten it.
Step 5
Tell the representative that you have lost your password. They will ask you a series of security questions to verify your identity, such as your name, address, and the answer to your set secret question. The representative will either allow you to reset it over the phone, or they will reset it to your phone's last 4 digits, and you can follow steps 1 through 3 to change it again.