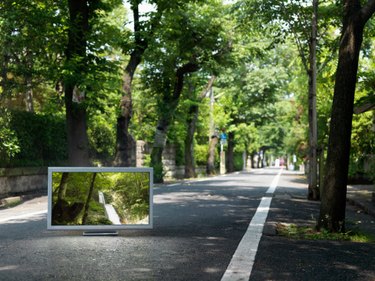 Sony rear-projection TVs provide a large-screened entertainment solution for your home or office. Unfortunately, color problems and yellow and blue spots and saturation can occur on the face of the Sony rear-projection TV. These problems can be the effect of damaged cables, electronic interference from other devices or dirty lenses on the inside of the rear of the television set. You can troubleshoot for these problems and make satisfactory repairs without the help of a repairman. No experience with Sony rear-projection TVs is necessary.
Step 1
Check the audio/video cable that connects the Sony rear-projection TV to the cable or satellite receiver. This black cable has a number of multi-colored plugs on each of its ends. Ensure that this cable is not visibly damaged in any way, and that each of the plugs is in good shape and is not bent. A damaged audio/video cable will negatively affect the quality of your rear-projection TV's display and may lead to yellow and blue saturation problems and various other display irregularities.
Step 2
Ensure that there are no other high-powered electronics in the close vicinity of your Sony TV. Speakers, computers and other similar electronic devices use a large amount of power and in turn may give off a lot of electronic interference. This interference can cause problems for your rear-projection TV's screen, such as color blurring and similar color issues. Move any such potential devices to an area that isn't as close to your Sony TV. The color blurring and yellow and blue saturation problems should then decrease over time.
Step 3
Unplug the TV if problems persist. Ensure that the Sony is completely disconnected from all power sources. This is for your safety.
Step 4
Place a towel on the floor of the area where you are going to operate on the TV. Carefully turn the TV facedown on the towel, so that the rear of the TV is facing upward.
Step 5
Remove all the screws from the back cover of the television set using a Phillips screwdriver. Remove the back cover piece by working around the edges with your fingers and gently prying the piece off.
Step 6
There will be three upright lenses in the back of the television. Cleaning these lenses can alleviate picture quality problems and color blurring. Use a soft cloth and soap and water to clean the lenses of the television. Avoid using any other cleaning solutions, as soap and water is the only universally recommended cleaner from rear-projection manufacturers like Sony.
Step 7
Ensure that the lenses are dried. Replace the back cover of the rear-projection TV and reinsert all screws using the Phillips screwdriver.