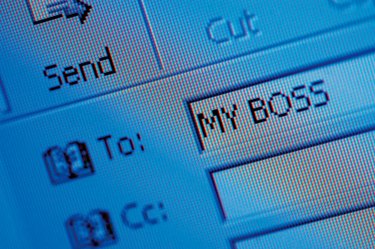 Horde is a free, open-source Web mail application used to read email via an Internet-connected Web browser. Gmail is a free email application from Google that uses Google's powerful search engine within traditional mail to allow fast retrieval of email messages. Horde is often provided along with Squirrel Mail and RoundCube as choices for Web mail clients by Web-hosting providers. To forward mail from your Horde account to Gmail, use Gmail's account import facility, also known as Mail Fetcher. This service is only available if your Horde account provider supports a POP mail server.
How to Forward Mail From Horde to Gmail
Step 1
Sign in to your Gmail account at gmail.com.
Step 2
Click on the gears icon on the upper-right of your Gmail screen, next to your Gmail address, and select "Mail Settings."
Step 3
Click on the "Accounts" tab.
Step 4
Click "Add a mail account you own" in the "Get mail from other accounts:" section. A new window emerges.
Step 5
Type in the name of your Horde account in the "Name:" text box, and the email address for your Horde account in the "Email address" text box. Click "Next Step."
Step 6
Type in your Horde account username in the "Username" text box, your Horde account password in the "Password" text box, and the name of your Horde account's POP server in the "POP Server" text box. Select the correct POP server port number from the drop-down menu. The POP server name and port number are obtainable from your Web-hosting provider.
Step 7
Check the "Leave a copy of retrieved message on the server" box if you want to preserve the original mail on your POP server. Check the "Always use a secure connection (SSL) when retrieving mail" if your POP server supports the SSL (Secure Socket Layer) option. Check the "Label incoming messages" box as your Horde email address if you want to distinguish your Horde mail from your Google mail. Check the "Archive incoming messages" box if you do not want your Horde mail to appear in your inbox, but rather be archived.
Step 8
Click "Add Account." If you have typed in your username, password and POP server name correctly, you have then successfully imported or forwarded your Horde mail to Gmail. If there is mail in your Horde inbox at this time, you will soon see them within your Gmail account, based on the settings in Step 7.