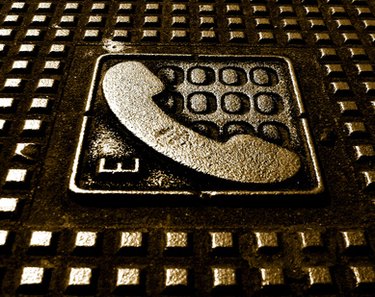 A teletypewriter (TTY) is a communications device used by the deaf, hard-of-hearing and speech-impaired to make telephone calls. Sometimes referred to as a TDD (Telecommunications Device for the Deaf), the TTY allows users to type messages back and forth, much like an instant message sent directly over the telephone line. A TTY is essential for households with members who cannot use a regular telephone. For the cost of a phone line and TTY device, any business or public place can make itself much more friendly for deaf, hard-of-hearing or speech-impaired customers.
Step 1
Determine whether you qualify for a free or discounted TTY device. Some states provide assistance for people who are deaf, hard of hearing or have speech impairments to purchase a TTY. Contact your state government, a local Lion's Club or the Telecommunications Equipment Distribution Program Association for help determining whether you might qualify.
Step 2
Know what type of telephone connection you will use. Your physically connected telephone might use an analog, digital or Internet protocol (IP) telephone line, and you'll need to select a TTY accordingly. Alternately, you could plan to select a TTY for use with cellular phone service.
Step 3
Decide what features you need in TTY device. TTY devices come with a variety of options, and you will want to think carefully about where your TTY will be installed and who will be using it before buying it. Some options to consider might be printing ability, portability, automatic answer, whether it flashes or rings and how it connects to the telephone network.
Step 4
Select and purchase a TTY from an online retailer or local business. You may need to visit several dealers to review all the choices that fit your needs and to find the best price. When comparing online and local prices, be sure to include shipping and tax in your calculations.
Step 5
Order a new telephone line for your TTY device if you plan to leave the device installed at all times and your device requires its own line. If you purchased a device that can work with a telephone or doubles as a telephone, you may not need a separate line.
Step 6
Install your TTY device according to the manufacturer's instructions. If you need help, contact the manufacturer or retailer who sold the device.
Step 7
Test your TTY device by using it to call another TTY directly or to contact any number that does not offer TTY service by calling a TTY Relay Service. A number of TTY relay services are operated by phone companies, government agencies and other groups. The U. S. government-run relay service, Federal Relay, is available by using your TTY to dial (800) 877-8339.