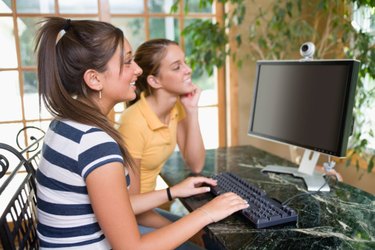 With more than 480 million registered users, Skype is among the most popular applications on the Internet. Skype offers voice and video over IP services (VoIP). Many use Skype's free services, such as voice and web cam calls between Skype users. Phone customers have discovered Skype as an inexpensive way to make long-distance calls to any phone number. Skype phone accounts are offered on "pay as you go" or monthly plans. With Skype credits, you can place calls immediately. The more credits you have, the longer you can talk. The question is, how can you get free Skype credit?
Step 1
Go to the Skype website promotions page at www.skype.com. In the upper-right corner of the home page, you will find a search field.
Step 2
Enter the word "promotions" and view the search results. The list presented will include archives of past promotions. Archive links should not be ignored. Search past promotions to get a feel for how Skype offers free talk time. Notice that free credits are often associated with new VoIP gear like phones, headsets and webcams.
Although the promotions shown in the archives have long since expired, the companies shown roll out new products regularly, so visiting these manufacturer websites may yield fresh Skype credits with a purchase of their gear.
Step 3
Be persistent. Check back with Skype's website often. Skype promotions are often short-lived and less frequent due to their overwhelming popularity. However, you can find amazing deals if you are diligent. For example, Mac users were treated to 10,000 minutes of free access to test the Skype 2.8 software beta release for the Mac.
Step 4
Visit on line coupon sites. This might be your last resort, as Skype credits through online coupons are rare, and the coupon codes listed at these sites are often unreliable.
Step 5
Consider an unlimited calling plan. Is the time you spend chasing down free credits worth more than $2.95 a month? If so, consider changing from a pay-as-you-go plan to a monthly subscription. Skype is popular because their long-distance subscription plans are among the lowest available. For around $10.00 a month, as of 2009, an unlimited International plan allows you to make as many calls as you want anywhere in the world.