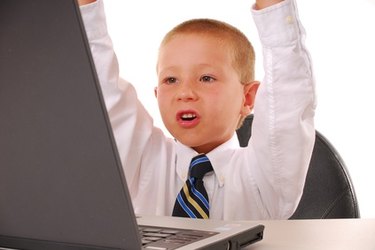 Roblox is a website that hosts a number of games and virtual environments and scenarios for children between the ages of 8 and 18. Roblox is an MMOG, or a massively multi-player online game. Children from all over the world can create accounts, design characters, build structures and interact with other children on Roblox. Parents can also monitor what their children are exposed to. Although there are a number of perks that come along with a paid Roblox membership, there are also many features that are available to all users free of charge.
Step 1
Visit the Roblox website to sign up for your free membership. On the left-hand side of the screen, click the button that reads "Register." You will be asked for your birth date to verify whether or not you are under the age of 18 (if you are under the age of 18 you will be asked if you would like to set up a parent account). Choose a character name and select a password. You must also provide a parent's email address. When you have finished the registration process you will have a free Roblox account and a free parent account to go with it.
Step 2
Earn tickets. You receive 10 free tickets upon registration completion. Tickets in Roblox are given out as a reward for creating popular buildings or spaces in which other users want to play. You will have to download the Roblox software in order to begin designing your own space. Click on "Spaces," and then "Play" from your personal Roblox page. The software will begin downloading for free. Once you create a space, other users can find it. When users play in your space, you earn tickets. You can trade the tickets for Robux, which is Roblox's form of currency. You can use the Robux to buy whatever you wish (virtually) from the Roblox catalogs.
Step 3
Refer some friends. If you invite at least four friends to join Roblox you can receive a free Inviter Badge. The badge is a virtual badge. On your personal page click the button that reads "Share." Scroll to "Invite friends." You will be given a code to copy into an email that Roblox will send out to the addresses you provide. The friends must have never signed up for Roblox before.
Step 4
Get a friend to Join The Builders Club. The paid membership to Roblox is called The Builders Club. If you are a member of The Builders Club and persuade the friends you have invited to register at Roblox to become members of the Builders Club, both you and your friend will receive 50 free Robux. Even if your friend doesn't sign up for the Builders Club right away, you will receive your free Robux whenever he does so.
Tip
Take a minute to research which spaces are popular on Roblox to get hints for what to make in your space.
Warning
An adult should always supervise when a child is on the Internet.