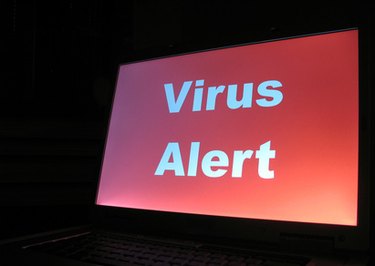 Internet Explorer is a common target for viruses, trojans and other bits of malware. Being an Internet browser, it can be used as a tool for these bugs to pop up ads or as a gateway to download more viruses. If you seem to have a virus attached to Internet Explorer, you'll want to get rid of it as soon as possible. In addition to the issues that arise with your Internet browsing, it could be doing significant damage behind the scenes.
Step 1
Run Microsoft's Malicious Software Removal Tool. To do so, click your "Start" menu and open the "Run" dialog. Type "MRT," then press "Enter." This application comes preinstalled with Windows 7, Windows Vista, Windows XP, Windows 2000 and Windows Server 2003. If you cannot run or find the repair tool for whatever reason, you'll have to download a new copy from the link in Resources.
Step 3
Select "Full Scan." Although this scan takes a bit longer than the default quick scan, it gives a better chance of deleting a virus attached to Internet Explorer.
Step 4
Click the "Next" button. Wait for the program to complete its scan of the infected PC.
Step 5
Follow the prompts to delete the Internet Explorer virus, along with any others it may have downloaded.
Step 6
Click the "Finish" button.