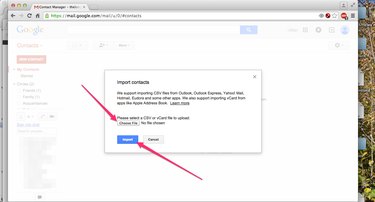 Understanding how to import contacts into your email client helps to ensure you're never without important contact information when you need it. Gmail has a dedicated Import tool designed to facilitate importing contacts saved in the vCard format directly into the Gmail Contacts Manager. VCF is the three-letter extension used to identify vCard files.
Step 1
Sign in to your Gmail account, click the "Gmail" icon in the top-left corner of any Gmail screen and select "Contacts" from the drop-down menu to launch the Contacts Manager.
Step 2
Click the "More" button on the Contacts Manager screen to open the More Actions menu. This menu is used to import, export, print and sort your Gmail contacts.
Step 3
Click "Import" on the More Actions menu to open the Import dialog.
Step 4
Click the "Choose File" button on the Import dialog, select the VCF file you want to import and then click the "Import" button to import the vCard information into your Gmail account.
Tip
What information is included in a VCF file can vary depending on the program you used to create it. Email clients such as Apple Address Book, for example, might include or omit different information than another program. After you finish importing your VCF file into Gmail, click the imported contact on the Contacts screen and examine what information was imported. If necessary, add any missing information manually.
You can also use the More Actions menu in Gmail's Contacts Manager to export contacts from your Google account. Click the "More" button on the Contacts page to open the More Actions menu and then select "Export." Select the contacts you want to export. You can select individual contacts, groups of contacts or all contacts. After you've selected what you want to export, choose the format you want to use. Options include vCard, Google CSV and Outlook CSV. Click "Export" when you're finished.
After you've exported contacts, you can import them into other programs, including the contacts app on your smartphone and desktop email clients such as Outlook and Thunderbird.
If you export contacts in the vCard format, you can email the VCF file to yourself as an attachment. Open the attachment in your email program to automatically import the contacts into your program's contacts.
Exporting into the CSV file format is the best solution if you're looking to transfer multiple contacts. The CSV format is also highly compatible and can be opened as a plain text file and by spreadsheet programs such as Microsoft Excel.