Whether you plan on placing your new Sceptre TV on a stand or mounting it on a wall, proper setup is critical. Failure to secure the TV properly may result in the TV toppling over and breaking, and improper cable connections may result in poor picture quality or no picture at all. Although the steps may vary depending on your Sceptre TV's model and the connected equipment, the overall process for setting up your TV remains the same.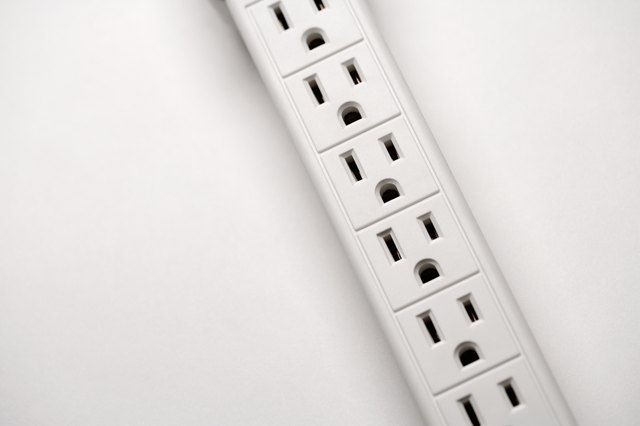 credit: Jupiterimages/Photos.com/Getty Images
Step
Attach the base stand to the TV. Typically, this involves using screws to connect the stand to the base support located on the back of the TV. Do not over-tighten the screws to avoid stripping the threads. If you intend to mount your TV to the wall, remove the screws that hold the base support in place.
Step
Place the TV on a flat surface or secure it to the wall mount hardware. Refer to the instructions included with the wall mount hardware on how to secure the TV. Leave enough space between the back of the TV and the wall or other furniture to allow proper ventilation. In addition, avoid locations with high humidity levels.
Step
Connect one end of the power cord into the back of your Sceptre TV, then connect the other end into the wall outlet or a power strip. A red light illuminates on the front of the TV, indicating that it is in stand-by mode.
Step
Connect the necessary cables to the back of your Sceptre TV. For example, use a coaxial cable to connect your TV directly to the cable wall jack, or use an HDMI cable to connect your receiver to the TV. Which cables you use depend on your equipment. Refer to your equipment manuals for proper cabling information.
Step
Remove the battery compartment cover from the back of the remote control and insert the batteries. Place the flat edge of the battery against the spring for proper placement, then close the battery cover.
Step
Press the "Power" button on the remote control to turn the TV on. Alternatively, press the "Power" button on the TV itself. If your TV connects to a receiver or cable box, turn that equipment on, too.
Step
Press the "Source" button on your remote control to select the appropriate input source which coordinates with the ports on the back of the TV. For example, if you connect your TV directly to a cable wall jack, select the "TV (Cable)" option as the input source, then follow the onscreen instructions to scan and program the channels. Alternatively, select "AV1 (S-Video)" when your input source connects to your TV's S-Video port.