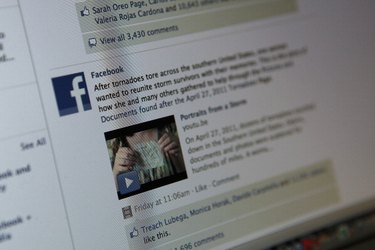 Facebook groups let users share messages and multimedia with a private set of Facebook users. As a Facebook group admin, you can invite whomever you wish to join. Anything shared within the group is not shared on members' Facebook profiles. Three main privacy settings, accessible through the group's general settings, exist for Facebook groups: Open, Closed and Secret. "Open" allows anyone to view and join the group. "Closed" allows anyone to see that the group exists, but only members can view the actual content. The most anonymous privacy setting is "Secret." Only members can see a secret Facebook group.
Step 1
Open a browser, go to the Facebook homepage (facebook.com) and sign in with your user email address and password.
Step 2
Click the name of the group you want to make anonymous in the left sidebar of your Facebook homepage. If the group is not displayed, click "See All" in the left sidebar to display all of the groups you belong to, then scroll down to the name of the group and click it.
Step 3
Scroll down the page of options for the Facebook group until you see the "Access" section. Click "This group is secret" to make the group anonymous.
Step 4
Scroll to the bottom of the page and click the "Save" button to confirm you want to make this Facebook group anonymous.