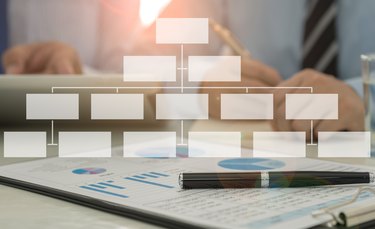 With the introduction of Google Drive, Google made a variety of powerful tools and productivity applications available for Google users through the Google Drive interface. Individuals who are familiar with the Microsoft Office suite find many similarities between the applications included in Google Drive and the associated cloud applications. In many scenarios, individuals can use Google Drive's collection of applications to accomplish core workplace tasks, such as producing presentations and flowcharts.
The Google Docs application is well suited to help individuals create flowcharts easily. Access Google Docs by selecting New at the top of your Google Drive. You must be logged in to your Google account.
Tip
To make a flowchart in Google Drive, you use the included Google Docs program. With Google Docs, users can quickly integrate a variety of functional shapes and graphic content into their documents to begin creating professional flowcharts.
The Basics of Google Docs
Google Docs is a word processing application that works seamlessly within the Google Drive interface. Featuring a powerful array of tools and utilities, this program is ideally suited not only for the creation of text documents but also for adding a variety of graphic elements that complement the text. After you create a graphic using Google Docs tools, it can be embedded in the document and then exported in a variety of formats. Thanks to the unique connectivity features incorporated in Google Docs, you can share any content produced in this particular application at the touch of a button via a shareable link. Privacy settings can be configured to ensure that only the appropriate people gain access to the content you create.
Exploring Flowchart Fundamentals
To begin creating your flowchart in Google Docs, you start by creating a new Google Docs document and then selecting the Insert menu. From the menu, select Drawing to gain access to a window that contains a variety of tools you can use to generate shapes that you can rapidly incorporate into your drawing as needed.
After the menu appears, select icons that contain specific shapes and connectors suitable for forming the architecture of your flowchart. For an additional degree of customization, the shapes themselves can be modified in a variety of ways, such as line thickness, fill colors and size. Keep in mind that you can customize these shapes at any point. You do not need to confirm any changes regarding the appearance of the shapes until you are ready to export the final document.
Constructing Your Flowchart
Double-click any shape that you have placed in your document to begin inserting text inside the shape itself. This is particularly helpful if you are in the process of embedding labels and titles in your flowchart to demonstrate a hierarchy. This text can also be modified as often as needed to ensure that the final product matches your expectations fully.
After you create your initial framework of shapes, use the line tool to link the visual assets together to increase cohesiveness and the overall narrative strength of the chart. These individual lines can also be modified as needed to match the visual styling of the flowchart as a whole.
Google Docs Drawing Options
If you are unsure as to whether the Google Docs image tools meet your needs, you may also consider exploring the Google Drawings application. Google Drawings provides users with a more extensive palette of graphics tools that allows you to customize your document further and tweak your flowchart design as needed. Google Drawings can be accessed through the Google Drive interface.