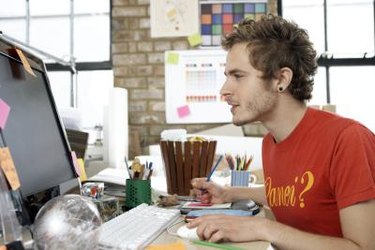 Foot pedals are helpful controllers for videographers who want to edit or transcribe their movie clips. Foot pedals allow you to access helpful shortcuts such as rewinding and fast-forwarding without having to take your hands away from the keyboard. Windows Media Player is a popular video playback application that is compatible with many file formats, and it is a clear choice to pair with a foot pedal. Download your foot pedal model's Windows Media Player plug-in or install it from the device's setup CD to get started.
Things You'll Need
Foot pedal installation CD
Foot pedal Windows Media Player plug-in
Step 1
Connect the foot pedal to your personal computer. Insert the foot pedal's USB cable into an available USB port on your computer. Insert the foot pedal's installation CD into your computer's CD-ROM drive, and follow the ensuing setup wizard's instructions. The installation CD will configure your foot pedal to the computer, and install a control application from which you may set shortcuts and commands.
Step 2
Install the foot pedal's Windows Media Player plug-in if the device does not advertise inherent capability with the application. Download the Windows Media plug-in from your foot pedal developer's support website as directed by the device's user manual or help section.
Step 3
Open your foot pedal's control application.
Step 4
Enter your desired key combinations into the corresponding fields in the Pedal Assignments tab. For example, enter "Space Bar" into the "Left Pedal Pressed" field if you want your left foot pedal to perform the space bar's function when pressed down.