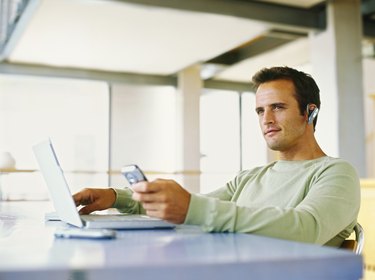 Laptops that do not have a Bluetooth adapter built into the machine can add connectivity for a device, such as a mouse, by using a USB Bluetooth dongle. A dongle will add the ability to connect any type of Bluetooth device to your laptop without having to install any additional hardware. A Bluetooth dongle is typically smaller than a quarter and plugs directly into a USB port on your computer.
Step 1
Locate a free USB port on your laptop and insert the USB dongle.
Step 2
Start your laptop and wait for the operating system to load. When the operating system loads you should see an "Add New Hardware Wizard" window appear on the screen.
Step 3
Click "Next" to install the drivers for the Bluetooth dongle.
Step 4
Right-click the Bluetooth device's icon from the Windows taskbar and select the "Add a Bluetooth Device" option.
Step 5
Make the Bluetooth device discoverable by pressing the button on the device.
Step 6
Put a check in the box for the "My device is turned on and discoverable" option from the Add Bluetooth Device Wizard.
Step 7
Click "Next" and wait while your system finds the Bluetooth device.
Step 8
Select a passkey option depending on the type of device you want to connect. A Bluetooth keyboard should have a passkey, but a Bluetooth mouse does not.
Step 9
Click "Finish" to exit the Add Bluetooth Device Wizard and begin using your Bluetooth device.