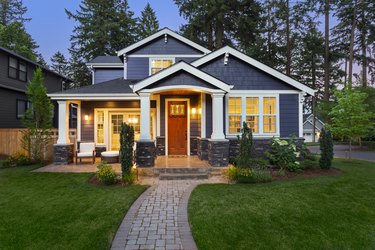 Privacy is a difficult subject in the digital world, and pulling your personal address, phone number and other information from the public view is not easy. Removing your address from traditional channels like the phone book is straightforward, but determining where the information exists online takes time to research and manually contact site owners and database managers. Wiping this information is easy if your address is only listed in a few places, but any extensive listings take some serious effort to remove.
Remove From the White Pages
To remove your name from a traditional printed phone book, check the back or inside label of the book to locate its corporate office phone number. The phone book publishers make their phone numbers easy to locate because they sell advertising space in the yellow pages section. You can use the corporate number to request removal from the white pages. Additionally, an official change of mailing address also removes your physical address from the public record. Take out a P.O. box and use it as a primary mailing address to separate your mailing location from your physical address. Removing your address from the phone book record does not take effect until the next edition of the phone book is published. Your information remains available in all the current phone books until they are obsolete and discarded.
Social Media and Personal Accounts
Most social media and personal online accounts outside of your bank and financial institution accounts do not require a physical address. If one does require an address, delete your account and do not use the platform. Social media and other online accounts are voluntary, and you can elect not to share your address with these institutions. Make a list of every account you have and visit your personal settings to remove your address information.
Manual Requests for Removal
It is more difficult to remove information from Google than a phone book or social media account. Your address may end up listed on random websites or on databases from nonprofit organizations and other businesses that have used your address for sales and business purposes. To remove your address from unwanted online sources, do a Google search with your name and address in the search query. Visit each website that pops up in the search results and use its contact page to request a removal. If the website does not list contact information, you may not be able to remove the address. Try locating the Whois domain ownership search through ICANN. If the information is public, you can contact the website owner directly.