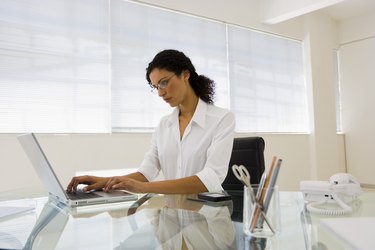 The Mac OS X operating system includes an application called Address Book. The main function of Address Book is to organize your contacts. However, it can also be used to create mailing labels. When making return address labels, you need to print a full page of the same address. Address Book does not automatically copy the address to all of the labels, but you can overcome this problem using the "Group" feature in the program.
Step 1
Go to the "Applications" folder and double-click "Address Book."
Step 2
Click on the "File" menu and select "New Group." Type a name for the group in the text box.
Step 3
Select the contact you want to use to create the return address. If you do not have a contact with the correct information, press the "+" button under "Name" and create the contact. When the contact is selected, press the "Command" and "C" keys on the keyboard.
Step 4
Click on the group you made in Step 2. Press "Command" and "V" to paste the contact into the group. Press the keys repeatedly until the group contains as many entries as there are on one page of labels. This number varies, so check the package. The number of entries, called "Cards" in Address Book, appears in the lower right side of the window.
Step 5
Go to the "File" menu and select "Print." Click the triangle adjacent to the printer menu to expand the printing options.
Step 6
Change the "Style" menu to "Mailing Labels." Click the "Layout" tab and use the menus to enter your label information. Click the "Label" tab to make changes to the font and color of the text on the label. You also have the option of adding an image to appear on the left side of the label.
Step 7
Load the label paper into the printer and press "Print" to print the labels.