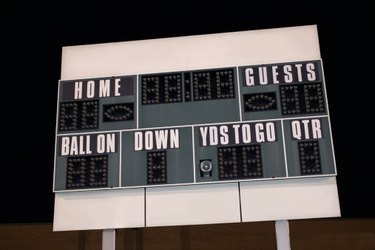 Using an online scoreboard generator can make your dreams of seeing your picture on a stadium screen a reality. With an online generator, you can modify the template of the scoreboard and create your own version to display your own pictures or messages. Although there are many online scoreboard programs, only a few allow you to fully customize the board. By finding and using an online scoreboard generator you can create your own scoreboard in only a few simple steps.
Step 1
Visit a website that offers a free online scoreboard generator such as Flipmytext.com. Ensure that the scoreboard program you are using allows you to actually make your own scoreboard and not simply modify the scores.
Step 2
Enter your messages in the fields marked "1st Editable Text" and "2nd Editable Text". You can change the font, color and size of your messages by clicking on the appropriate fields and selecting a suitable option.
Step 3
Select an appropriate photo you would like to appear on the scoreboard. Copy the URL for the image and paste it into the field marked "Add Your Hosted Image" and select "Enter."
Step 4
Click on the left or right tabs to cycle through a number of available backgrounds until you find one that is suitable. Select your favorite background by clicking on it. You will now have a customized online scoreboard.
Step 5
Copy the URL at the bottom of the scoreboard generator and paste it into another program or website to embed it and display your customized scoreboard.