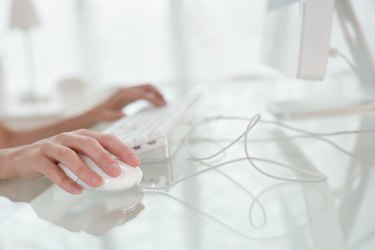 Stock photos are used often in advertisements, marketing material and presentations. However, if an artist is searching for something very specific, it may be difficult to find just the right image. One solution is to create a custom image by merging two digital photographs together using Photoshop CS2. Adobe's powerful graphics software allows you to use a number of different tools, filters and fades to get virtually any desired effect. One easy way to merge photos is by using Photoshop's layer mask. In just a few steps, take two dull stock photographs and create an original piece.
Create Layer Mask
Step 1
Open a new document in Photoshop by going to "File" > "New." Change the height and width so that it is large enough to fit the photographs. The resolution should be set at 96 pixels per inch (ppi) for screen viewing and 300 ppi for printing.
Step 2
Place the images onto the canvas by going to "File" > "Place," then choose each photo and hit "OK." Each file will appear on its own layer. Name the bottom layer "Bottom" and the top layer "Top."
Step 3
Move the images around so that they are in the position desired. Depending on how you are merging the layers, the positioning of the photographs will vary.
Step 4
Click on the "Top" layer in the Layers palette on the right side of the screen so that it is highlighted. Then, click the "Add Layer Mask" button at the bottom of the Layers palette. The button looks like a square with a white circle in it. This creates a layer mask on the "Top" layer. A white thumbnail will appear in that layer on the Layers palette.
Step 5
Select the Brush tool and choose a soft, round brush from the Options menu at the top of the screen. Then, click on the "Set Foreground Color" color swatch in the Tools palette and choose black.
Paint Layer Mask
Step 1
Begin painting over the areas of the top layer that need to be removed. For example, if you are merging a hand with a peace sign and an actual peace sign, paint the background areas on the hand layer so that the hand is isolated. If too much of an image is removed, change the foreground color to white and paint back over the area to make the missing parts reappear.
Step 2
Right-click on the "Bottom" layer and select "Duplicate Layer." Then, click-drag the duplicate layer, which will automatically be labeled "Bottom Copy," to the top of the Layers palette.
Step 3
Hold the "Ctrl" button and click on the layer mask thumbnail of the "Top" layer. A "marching ants" selection will appear over the "Bottom Copy" layer in the outline of the layer mask created in Step 1 of this section.
Step 4
Select "Add Layer Mask" on the "Bottom Copy" layer. Then, go to "Image" > "Adjustments" > "Invert."