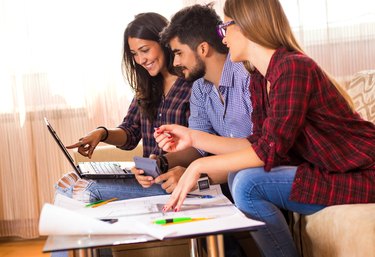 Canon Pixma printers provide a range of services to their users, depending on the model that is being used. However, they do share many similarities, including the type of media that they are configured to print. In most cases this will include common sizes of paper, such as letter or legal, but it also includes some unusual options, such as "T-Shirt Transfers." The "T-Shirt Transfer" setting will allow for mirror printing, which prints an image backward so it can be applied to other media, such as a T-shirt. Fortunately, this setting can also be applied to files other than images being transferred to T-shirts, and will allow you to mirror print anything.
Step 1
Turn on your Pixma printer and your computer, then verify that the two devices are connected with a USB or printer cable.
Step 2
Click the "Start" button in the lower left corner of the screen, then select "Control Panel."
Step 3
Double-click on "Printers," "Devices and Printers" or "Printers and Faxes."
Step 4
Right-click on your Pixma printer and choose the "Printing Preferences" option.
Step 5
Select the "Main" tab at the top of the window.
Step 6
Click the drop-down menu next to "Media Type" and choose the "T-Shirt Transfers" option.
Step 7
Click the "Apply" button at the bottom of the window, then the "OK" button. To stop printing mirror images, return to this setting and choose a different media type.